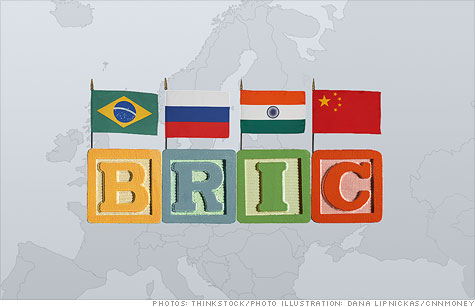 While Bitcoin has had a global presence since its beginning, those in emerging nations such as the BRICs (Brazil, Russia, India and China) have had little access to convenient methods for participating in the Bitcoin economy.
That situation is rapidly changing.
In the past weeks a number of developments are helping to make Bitcoin truly a global digital currency.  Following are some highlights.
Of course, these aren't the only emerging economies seeing bitcoin developments.  Trading bitcoins in the Philippines is now offered,  BitMarket.co, a market exchange in Colombia, just recently launched.  BTC-Direct.fr delivers bitcoins using SMS to mobile users in two dozen countries including Estonia, Lithuania and Montenegro and has announced plans to serve Mexico, South Africa and Morocco soon as well.
Additionally, the range of technologies that bitcoins can be used on is expanding, including making bitcoin usable for those using feature phones.  Though Coinapult's recently launched SMS Wallet can only be used in the U.S. and Canada at present their future plans include global expansion.
While Bitcoin's mindshare is presently concentrated primarily in developed nations, Bitcoin has a bigger potential to improve the lives for those whose savings are at risk of devaluation through inflation, for those whose payments are made costlier as the result of payment system fees, and most importantly for those whose governments impose restrictions on how their money is used.
It would be an incredibly expensive and risky tactic for a corporation or banking endeavor to try to roll out a financial service globally.  Because Bitcoin is not a corporation, nor a bank, nor an agency of any government, nor any formal organization it can thus continue to expand, permeating the BRICs and beyond, organically just as it exists today.  This is an expected and natural progression for this currency.
The network effect is starting to take hold and Bitcoin is becoming less of a novel innovation and more like a valued special-purpose tool that uniquely serves specific needs and solves tough problems.  In hindsight, it would seem obvious that a digital currency that works like cash (non-reversible, trivial transaction costs, instant settlement) would be no less valued in Mumbai than it is in Memphis.
This value is now being recognized the world over.
Previous Posts - Twitter: @BitcoinMoney